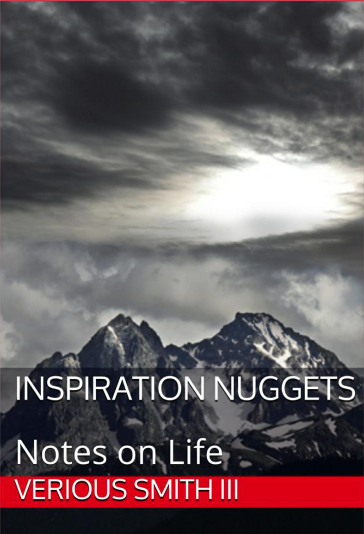 Title:
Inspiration Nuggets: Notes on Life
Series:
Authored Books
Published by:
Kindle Direct Publishing
Release Date:
July 28, 2018
Contributors:
Verious Smith III
Genre:
Inspiration
Pages:
9
ASIN:
B07FZ51HMY
Inspiration Nuggets is an easy way for you to get a quick dose of personal inspiration in your life without having the need to listen to an entire podcast or read through an exhaustive personal life story. These pithy sayings are the quickest way for you to get a dose of "Get UP and Go".
Add on Goodreads
Buy the Book:
Amazon
Excerpt:
Vision
Who you believe yourself to be and what you believe yourself able to accomplish is far more important than what any other human being believes about you. Your thoughts about yourself true or false will eventually blossom into actions.
So, who and what do you believe yourself to be? Are you a bad person? Unimportant? A failure or one who will always struggle?
What does God say about you and believe about you as a loving heavenly father.
I challenge you to challenge all previous assumptions and supposed confirmations about yourself that are negative and failure oriented and get a new vision of you. One based on optimistic possibilities.
What you see you will act out.